Last July 16, 2014, Typhoon Rammasun (Glenda), the strongest typhoon to hit the Philippines this year, made its landfall Tuesday night (July 15, 2014) in Rapu-Rapu, Albay. It affected Regions I, III, IV-A, IV-B, V, VIII and NCR with sustained winds of 140 kilometers per hour. Typhoon Glenda made its exit Thursday afternoon.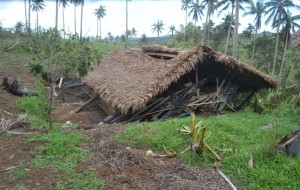 Areas and streets in Metro Manila were engulfed with water and fallen trees and have become impassable to light vehicles. At the same time, some roads and bridges in Quezon, Albay, Catanduanes, Camarines Sur, Masbate and Leyte were blocked by flood water, fallen trees and rockslides. Families living in risk areas that were alerted about possible flashfloods and landslides were evacuated to the nearest evacuation centers.
According to the latest report of the National Disaster Risk Reduction and Management Council (NDRRMC), at least 54 persons were reported killed, 100 injured, and 3 missing in Regions I, III, IV-A, IV-B, V, VIII and NCR as of Friday Morning (July 18, 2014). The number of total casualties is still expected to increase as reports continue to come in.
To date, a total of 167,293 families (or 882,326 people) were affected by Typhoon Glenda in 7 regions. Out of the affected, 525,791 persons or 99,548 families were displaced and evacuated to 1,200 evacuation centers. A total of 26,259 houses were damaged by Glenda.
The NDRRMC also reported a total of Php 892 million worth of damages to infrastructure and Php 4.5 billion worth of damages to agriculture.
Two provinces and one city in Region V, namely Albay, Camarines Sur and Naga City, were declared under state of calamity.
Appeal for Support
Affected families are in need of immediate relief (food and non-food items) after their houses and farms were destroyed by the strong winds. Drop your donations at the CDRC Office, 72-A Times St., West Triangle Homes, Quezon City.
For cash donations:
Peso Account:
Account Name: Citizens' Disaster Response Center
Bank: Metrobank, Examiner Branch, Quezon City, Philippines
Account No. 636-3-63600741-3
Dollar Account:
Account Name: Citizens' Disaster Response Center
Bank: Metrobank, Examiner Branch, Quezon City, Philippines
Account No. 636-2-63600158-3
Swift Code: MBTCPHMM