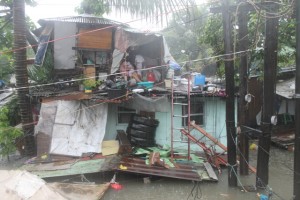 Reaching a  maximum sustained winds of 85 kilometers per hour (kph) near the center and gustiness of up to 100 kph, Typhoon Mario (Fung-Wong) affects a total of 258,976 families or 1,160,050 persons in Regions I, II, III, IV-A, IV-B, V, VII, the Cordillera Administrative Region (CAR) and the National Capital Region (NCR) according to the National Disaster Risk Reduction and Management Council (NDRRMC).
The combined effect of Southwest Monsoon and TS Mario brought heavy to intense rains and thunderstorms in Metro Manila and the rest of Luzon. There was widespread flooding in Metro Manila, and various areas in Ilocos, Central Luzon, Southern Luzon and Bicol. In Regions I, III, IV-A and the NCR, 379 areas remain flooded. There were 19 reports of landslide and rockslide incidences and 81 roads and 6 bridges remain closed or impassable due to floods, soil erosion and rock debris. Thousands of passengers were stranded because of cancelled flights and rough sea conditions.
Latest NDRRMC reports state that 30,266 families or 129,676 persons are inside 324 evacuation centers. Displaced and unable to go back to their homes because of the damage wrought by TS Mario, they endure overcrowding, lack of privacy and lack of food. Children and the elderly face great health risks.
The NDRRMC pegged damage to agriculture at P48 million and infrastructure at P95.5 million.
A state of calamity was declared over Ilocos Norte, Marikina City, Cainta, Rizal and Cebu City.
Appeal for Support
Affected families are in need of immediate relief (food and non-food items) after their houses and livelihoods were destroyed by floods and strong winds. Thousands of families remain cramped in evacuation areas. Drop your donations at the CDRC Office, 72-A Times St., West Triangle Homes, Quezon City.
For cash donations:
Peso Account:
Account Name: Citizens' Disaster Response Center
Bank: Metrobank, Examiner Branch, Quezon City, Philippines
Account No. 636-3-63600741-3
Dollar Account:
Account Name: Citizens' Disaster Response Center
Bank: Metrobank, Examiner Branch, Quezon City, Philippines
Account No. 636-2-63600158-3
Swift Code: MBTCPHMM